ABOUT
Jan Jedenak
Theatre of figural forms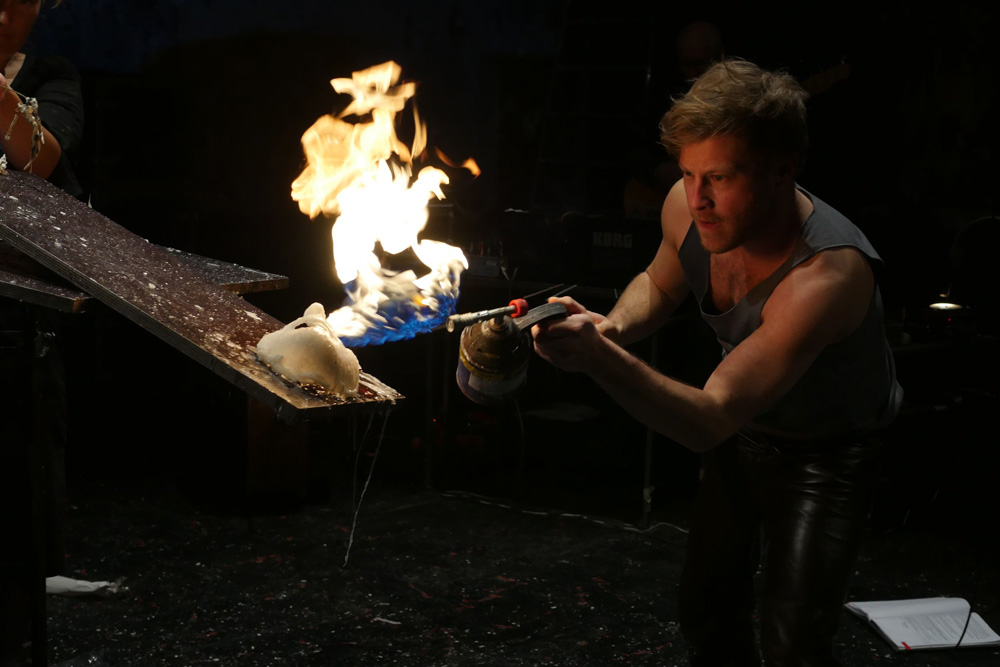 Jan Jedenak focuses on pictorial language, oscillating on the border between the performing and the visual arts. A theatre form that is capable of focussing on the essential, of working with metaphors and symbols, and of so creating a projection screen that absorbs the viewers' sensations and fantasies.
The productions revolve in an encrypted way around the repressed and oppressed, the experience of violence and trauma. They are characterized by examining the unconscious, dreaming and dealing with the "uncanny". Each production tries to examine the incoherence of our relationship with the world in an individual way.
Giving space for obscure fantasies, uncovering the strange, the supposedly "abnormal", the "foreign" in our lives is an essential source of inspiration. Social processes of exclusion and otherness are reflected on.
The supposed coherent construction of the subject is deconstructed through fragility, strangeness and artificiality in the work process and in the selection of aesthetic means in order to break habitual modes of perception and perspectives.
Jan Jedenak
Freelance Puppeteer and Theatre Director

I want the impression, not the expression!
Jan Jedenak studied puppetry at the Figure Theatre Department of the State University of Music and Performing Arts Stuttgart and Theatre-, Film and Media Science at the University of Vienna. Since 2011 he is working as a freelance theatre director and puppeteer collaborating with artist of various backgrounds such as music, dance, performing arts and puppetry creating productions for national and free theatre. Guest performances with his own productions and collaborations have taken him to international festivals in France, Austria, Switzerland, Poland, Lithuania, the Czech Republic, Finland, Estonia and Israel. 2015 winner of the Fritz-Wortelmann Prize in the category of professional offspring from Fidena and the city of Bochum for the production "/ SEANCE / Sequences interpreting the invisible ".